"…when we're intently focused on a strenuous target, we sometimes view the smallest lapse as evidence the entire endeavor has failed. This sets off a 'failure cascade,' or more bluntly, the 'what the hell' effect. (Might as well eat the whole box...) A zero-tolerance approach strains motivation, and the forbidden fruit only ripens with time. But cheat days are like mini-vacations from your self-control." – Olga Khazan, The Atlantic
Cheater, Cheater, Pumpkin Eater
Thanksgiving is just around the corner. With seven days left before turkey day, we're dishing out seven salads — one for each day before you dive face first into the pumpkin pie on Thursday. And don't worry too much about the calories you consume on this food centric day. Research published in the Journal of Consumer Psychology found that subjects who ate 1300 calories daily with a single 2700-calorie splurge day lost the same amount as participants who were on a strict 1500-calorie per day diet with no splurge day. The science behind this is that those who were able to splurge could more easily come up with ways to curb their temptations throughout the week and motivate themselves by focusing on their splurge day reward. So indulge in these delicious salads all week long before the biggest cheat day of the year.
Day 1
Instagrammer Carina Wolff, @kalememaybe, has a delicious Thanksgiving salad recipe for you for Day 1. Remember to follow her!
Ingredients
Ginger-Roasted Sweet Potatoes:
2 ½ cups diced sweet potato
2 tbsps extra-virgin olive oil
¾ tsp ground ginger
Dash of salt and pepper
Salad:
4 cups of chopped kale
¼ tsp sea salt
2 tbsps extra-virgin olive oil
2 large cloves of garlic (or 3 small)
¼ cup dried cranberries
¼ cup chopped pecans
¾ cup grated Parmesan cheese
4 tbsps lemon juice
1 tbsp breadcrumbs
Let's Get to It
Preheat oven to 425ºF.
Add sweet potato to a small bowl, and toss with olive oil and ginger until evenly coated. Spread the sweet potatoes evenly on an aluminum foil-lined baking sheet, and top with a dash of salt and pepper.
Bake for 20 minutes or until sweet potatoes are soft.
While the sweet potatoes are cooking, begin to prepare the rest of the salad. Add the chopped kale to a large bowl, and add the sea salt and olive oil. Massage the kale, rubbing the leaves between your fingers to soften. Massage until the fiber in the leaves have broken down and the kale feels soft.
Finely chop up the garlic until it forms almost a paste. Add to the kale, and toss until the leaves are evenly coated.
When sweet potatoes are finished, let cool for 10-15 minutes. Then add sweet potatoes to the kale bowl along with the cranberries, pecans, and grated Parmesan cheese. Add lemon juice and breadcrumbs, and toss until everything is evenly coated. Enjoy!
Day 2
Susan Spungen of Epicurious brings the Brussels sprouts you may have disliked as a child to this delicious salad you'll be loving during your lunch break.
Ingredients
¼ cup fresh lemon juice
2 tbsps Dijon mustard
1 tbsp minced shallot
1 small garlic clove, finely grated
¼ tsp kosher salt plus more for seasoning
Freshly ground black pepper
2 large bunches of Tuscan kale (about 1 ½ pounds total), center stem discarded, leaves thinly sliced
12 oz Brussels sprouts, trimmed, finely grated or shredded with a knife
½ cup extra-virgin olive oil, divided
⅓ cup almonds with skins, coarsely chopped
1 cup finely grated Pecorino
Let's Get to It
Combine lemon juice, Dijon mustard, shallot, garlic, salt, and a pinch of pepper in a small bowl. Stir to blend; set aside to let flavors meld. Mix thinly sliced kale and shredded Brussels sprouts in a large bowl.
Spoon 1 tbsp oil from cup into a small skillet; heat oil over medium-high heat. Add almonds to skillet and stir frequently until golden brown in spots, about 2 minutes. Transfer nuts to a paper towel-lined plate. Sprinkle almonds lightly with salt.
Slowly whisk remaining olive oil in cup into lemon-juice mixture. Season dressing to taste with salt and pepper.
Pro-Tip: Dressing, kale mixture, and toasted almonds can be prepared 8 hours ahead. Cover dressing and kale mixture separately and chill. Cover almonds and let stand at room temperature.
Add dressing and cheese to kale mixture; toss to coat. Season lightly with salt and pepper. Garnish with almonds.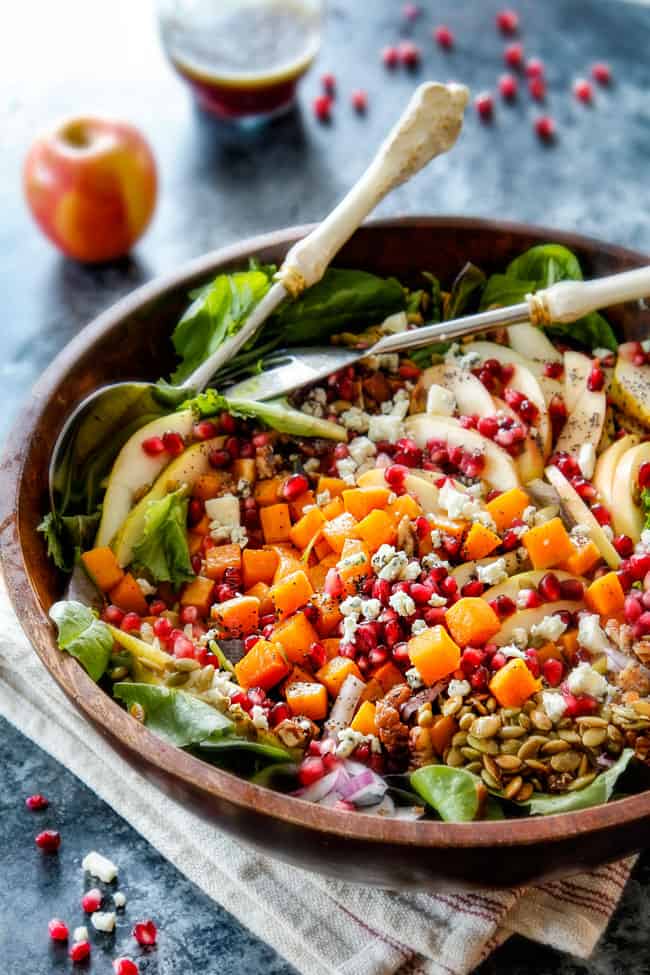 Photo by Jennifer Sattley, @carlsbadcravings
Day 4
Epicurious' Adam Rapoport is serving up this summer favorite all year long. Try this warm Caprese salad for Day 4.
Ingredients
2 pints cherry tomatoes
4 sprigs thyme
4 garlic cloves, smashed
¼ cup extra-virgin olive oil
Kosher salt
8 oz fresh buffalo or cow mozzarella (about 1 ball), room temperature, torn into large pieces
Flaky sea salt
Country-style bread, brushed with oil, toasted in oven (for serving)
Let's Get to It
Preheat oven to 350°F. Toss tomatoes, thyme, garlic, and oil on a rimmed baking sheet to coat and season lightly with kosher salt. Spread out in a single layer and roast until tomatoes are bursting and lightly browned, 40–45 minutes; let cool.
Arrange mozzarella on a platter and spoon warm tomato mixture with juices over; sprinkle with sea salt. Serve with olive-oil-toasted bread for soaking up all those extra juices.
Pro-Tip: Tomatoes can be roasted 1 day ahead. Cover and chill. Gently reheat before using.
Day 5
Day 5 is serving up some serious fall vibes with this Fall Harvest Honeycrisp Apple and Kale Salad from Half Baked Harvest's Tieghan Gerard.
Ingredients
Salad:
1 tbsp extra virgin olive oil
1 tbsp real maple syrup
⅓ cup raw pepitas
¼ tsp ground cinnamon
3 oz thinly sliced prosciutto
2 heads kale, shredded
2 honey crisp apples, thinly sliced
Arils from 1 pomegranate
½ cup crumbled feta cheese
Vinaigrette:
⅓ cup extra virgin olive oil
1 shallot, thinly sliced
2 tbsps apple cider vinegar
1 tbsp fig preserves
1 tbsp fresh thyme leaves
Kosher salt and pepper
1 pinch crushed red pepper flakes
Let's Get to It
Preheat oven to 350°F. Line a baking sheet with parchment paper.
On the prepared baking sheet, toss together the pepitas, olive oil, maple syrup, cinnamon, and a pinch of salt. Arrange in a single layer. Lay the prosciutto flat around the pepitas. Transfer to the oven and bake for 10-15 minutes or until the pepitas are toasted and the prosciutto is crisp.
Meanwhile, in a large salad bowl, combine the kale, apples, and pomegranates.
To make the vinaigrette, heat the olive oil in a medium skillet over high heat. When the oil shimmers, add the shallots, cook until fragrant, 2-3 minutes. Remove from heat, let cool slightly. Add the apple cider vinegar, fig preserves, and thyme. Season with salt, pepper, and crushed red pepper flakes.
Pour the vinaigrette over the salad, tossing to combine. Top the salad with toasted pepitas, prosciutto, and feta. Eat and enjoy!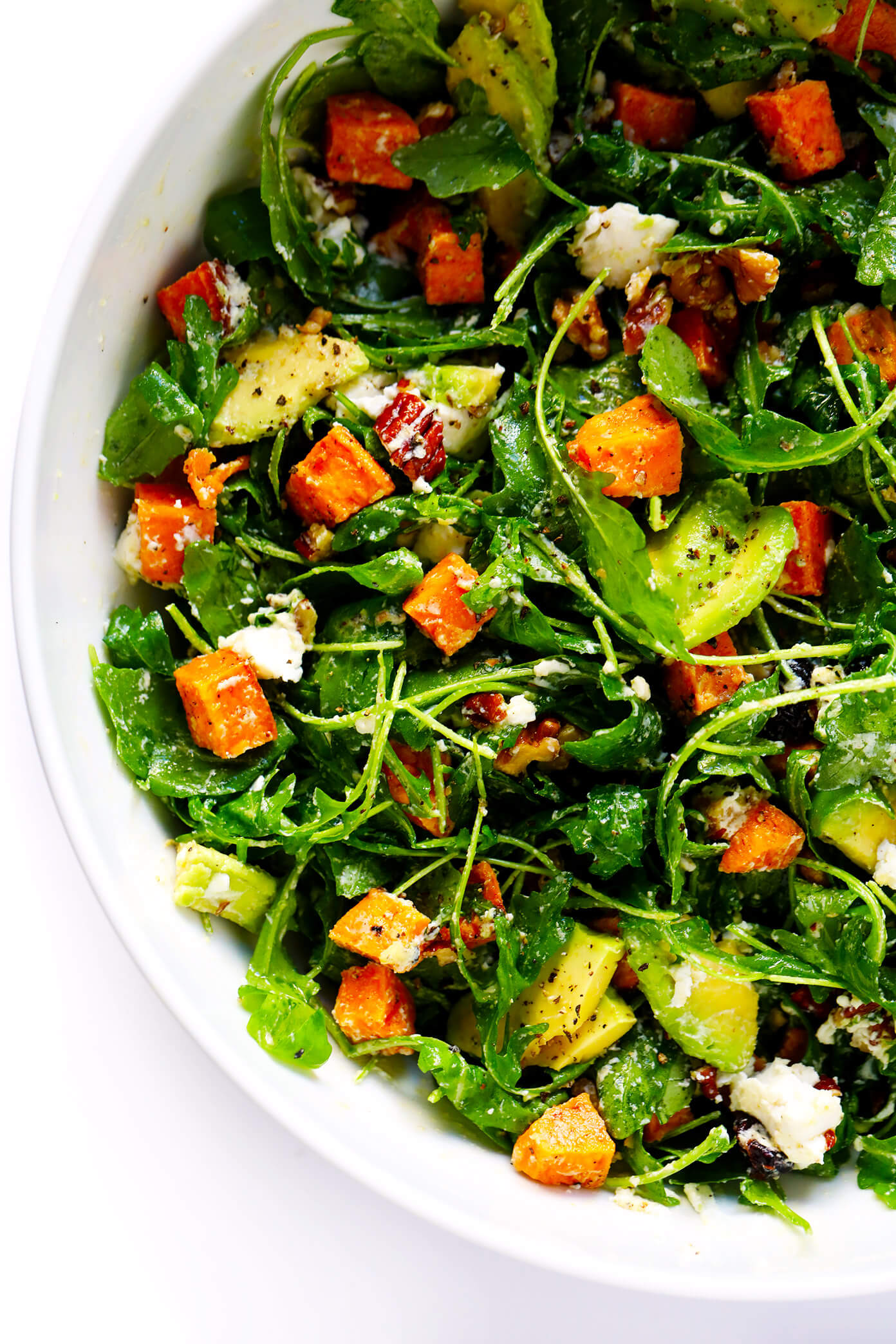 Day 6:
This Feel-Good Fall Salad from Ali over on Gimme Some Oven is making us fall in love with salads all over again. Click here for the full recipe!
Photo by Ali, Gimme Some Oven
Day 7
Instagrammer Dave Cohen, @mypaleoishlife, has a delicious take on a Southwest Chicken Quesadilla Salad recipe that's entirely different from what you'll be having on Day 8 (lots of turkey and pie we're sure). Remember to give him a follow!
Ingredients
Chicken Marinade:
1 tsp cumin seeds
3 chipotle peppers (in Adobe liquid)
3 garlic cloves (chopped)
1 tsp oregano
½ tsp ancho chili powder
Dash of salt and pepper
1 tbsp white vinegar
2-3 tbsp avocado (or olive) oil
Salad:
1 ½ lbs chicken breast (thinly sliced)
4 almond flour tortillas (try Siete Foods)
½ cup Manchego cheese
1 tbsp avocado oil
5 cups mixed greens
½ cup tomatoes
1 avocado
Dressing:
1 jalapeño pepper
5 tomatillos
4 garlic cloves
Handful of cilantro
½ cup buttermilk
Dash of salt and pepper
¾ cup mayonnaise
1 ½ tbsps ranch powder
Let's Get to It
To Do Ahead: Heat a small skillet or frying pan over high heat. Once the pan is hot, add the cumin seeds—no oil!—all at once. Shake the pan to keep the cumin seeds moving and cook—shaking the pan constantly—until the seeds darken slightly, about 1 minute. Grind or use a mortar and pestle to turn the cumin into a powder-like consistency. Add cumin, chipotle peppers, two scoops of the Adobe liquid, garlic cloves, oregano, chili powder, salt, pepper, and white vinegar. Blend until smooth, and then blend in the oil. Marinate chicken breast in chipotle mixture in the refrigerator for 6 8 hours.
Heat an outdoor grill over medium-high heat, about 400ºF. Grill chicken for 5 to 7 minutes per side, or until internal temperature reaches 165ºF. Remove from grill and let rest.
Pro-Tip: If temps are dropping in your area, feel free to ditch the outdoor grill and use a grill pan, broiler, or one of these tricks from Epicurious.
While chicken is grilling, begin the dressing. Preheat the oven to 425ºF. On the top shelf, roast jalapeño pepper and tomatillos for 15 minutes. Flip jalapeño, add garlic cloves, and roast for an additional 10 minutes. Once out of oven, add jalapeño, tomatillos, garlic cloves, cilantro, buttermilk, salt, and pepper into a blender and blend until smooth. Pour mixture into a bowl and add in mayonnaise and ranch powder, whisk until smooth.
Pro-Tip: For a more mild dressing, remove the jalapeño seeds before roasting.
In a large skillet over medium-high heat, heat avocado oil. Add 1 tortilla to skillet and top with Manchego. Place second tortilla on top and cook, flipping once, until golden, about 3 minutes per side. Repeat for second quesadilla.
Begin plating with a bed of mixed greens, then add in tomato and avocado (feel free to use more or less based on preference). Top with diced grilled chicken and quesadilla slices and drizzle with creamy cilantro dressing mixture.